TOP 9 GIFTING IDEAS FOR WOMEN EMPLOYEE
Mar 22,2023 | Joewin Tan
Keyword: Women employee gifting
Do you know how much storms are masked behind the picture-perfect face and sleek hair bun? How much guilt and pressure are they fighting every day? So, if you are here to motivate your women workforce, this article is for you. We have some hand-picked unique gifting ideas for women.
Every year women's day brings light to the Pyrrhic victory of gender equality. The war of breaking the bias has been fought for ages and is continuing. The typical gender role outshines the potential contribution the women can play economically. The one who breaks the barriers multitasks and struggles her way out.
According to the survey, the diverse management teams outperform in profitability and value creation. The statistics indicate that gender-diverse groups can generate more significant sales and higher revenue than a male-dominated team structure.
So, if you have women in your team, acknowledge them and motivate them for their efforts, as along the way, they may have fought many battles to reach where they are now.
Need For Encouraging Women Employees
Gifting is a way to bridge the expectations-reality gap forged by our Asian society for women precisely. The traditional gender roles have put extra pressure on women workforce. They are coerced into prioritising domestic tasks over professional ones, forcing them to put their careers in the back seat and dwindle between homemaking and power brokering.
So, let us encourage our women workforce and acknowledge their efforts and struggles in the making up every day through gifting them on different occasions.
Top 9 Gift Ideas For Women Employees
Companies that don't realise the importance of women's workforce miss out on a great time. The companies that have reached the top have a diverse workforce. The women with higher representation in board management outperform the companies with lower expression.
So here are a few holistic wellness gifts you can give your women employees and cherish their contribution to your company.
1. YOU GO, GIRL GIFT SET
Empower your female workforce with these customised you-go girl sets. This adorable 'you go girl gift set' includes two hand sanitisers, a mini honey jar, a mini honey dipper, and some snacks, all packaged in a pretty yellow box. It is a perfect gift to show women in your workforce that you appreciate their strength and independence.
2. EMPOWERING GIFT SETS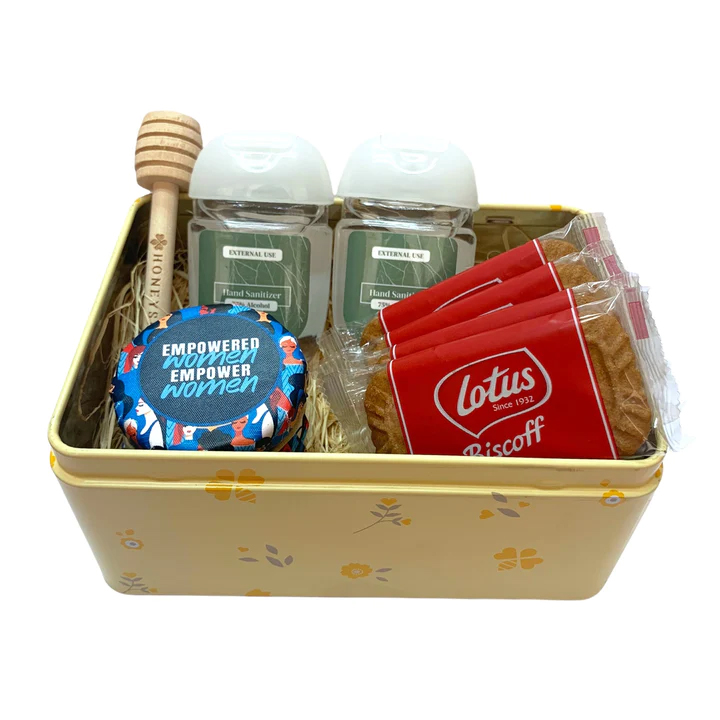 Empower your female workforce with these customised empowering gift sets. This adorable 'empowering gift set' includes Ferrero Rocher, a mini honey jar, a mini honey dipper, and some snacks, all packaged in a pretty yellow box. It is a perfect gift to show women in your workforce that you appreciate their strength and independence.
3. ECO GIFT SETS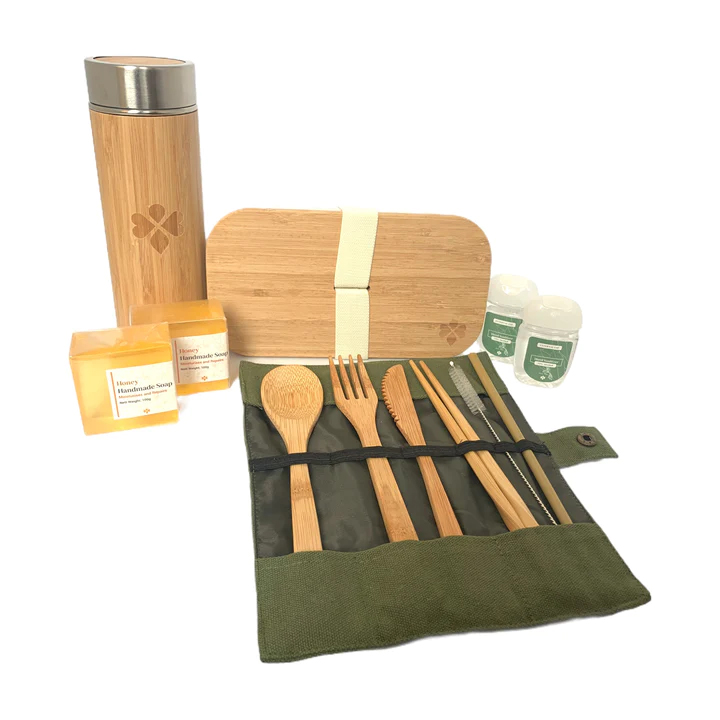 Give the gift of sustainability to your women employees with an exclusive Eco-friendly gift set. (you can gift the items separately too). This set contains a set of bamboo cutlery, a bamboo tumbler, a bamboo lunch box, 2 Honey Soaps, and 2 Hand Sanitizers—a perfect gift for your eco-conscious employees.
4. AROMATHERAPY GIFT SET/MINDFUL MEDITATION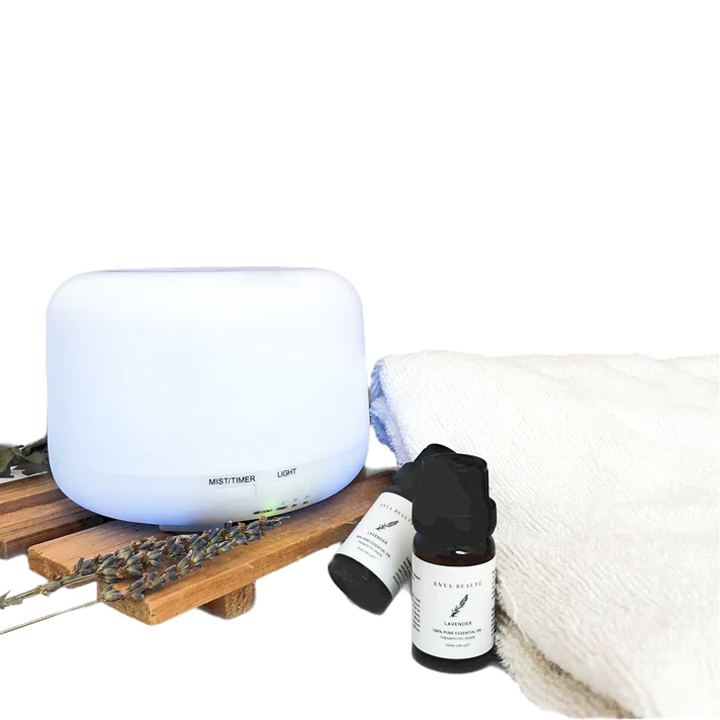 Are you looking to promote relaxation in your office or want your women employee to be mentally relaxed after juggling homemaking and job? Then look no further and gift your employees a mindful medication gift set including a diffuser and blend of six different oils or an aromatherapy gift set that contains a diffuser and lavender oils. You can gift all items separately too.
It is a perfect gift after a stressful and draining work semester or a month. It is also the best way to relax your employees and build their morale.
5. GRATEFUL FOR YOU HAMPER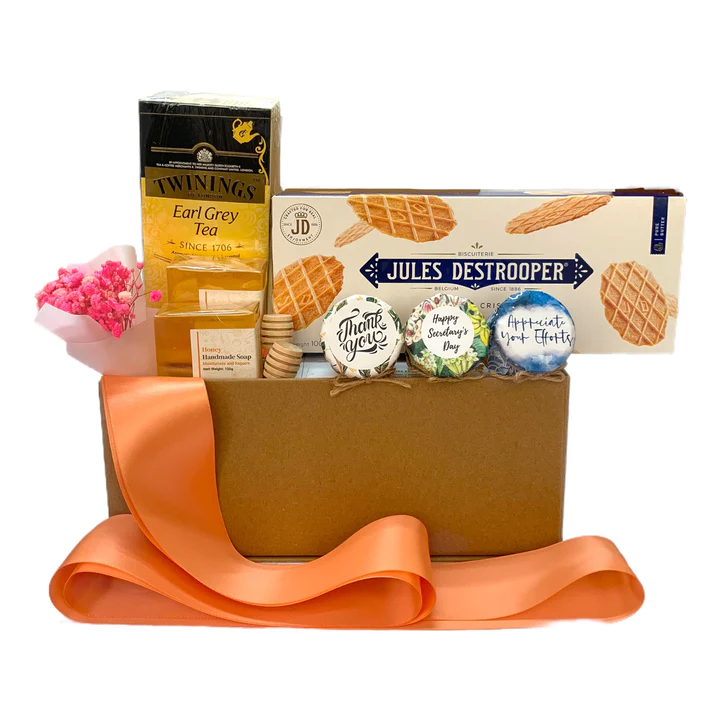 Pay gratitude to your hard-working female secretary by gifting this customised grateful for your hamper. This gift set includes delicious almond thin and earl grey tea that helps to rejuvenate and help them retire from a long day. But that's not all; we've also included two honey soaps to help them refresh during their hectic day.
Pay gratitude to your hard-working female secretary by gifting this customised gift set.
6. BEST SECRETARY EVER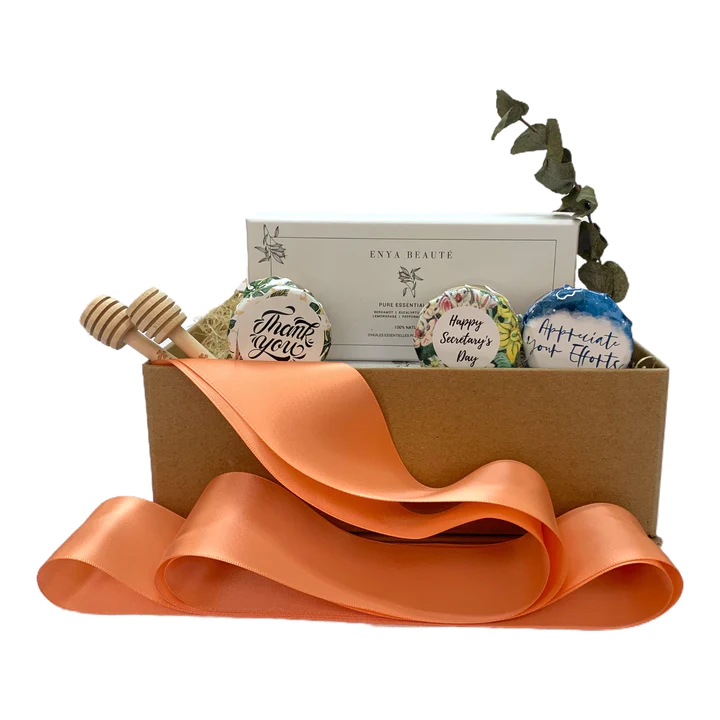 Are you looking to gift your female secretary for their long-term hard work? Look no further; our best secretary ever set is the perfect gift to do so. It comes with 100% pure essential oils that are perfect for diffusing in your office or home, while the honey is ideal for sweetening your day.
7. SWEET TREAT CARE TIN/HYGIENE CARE SET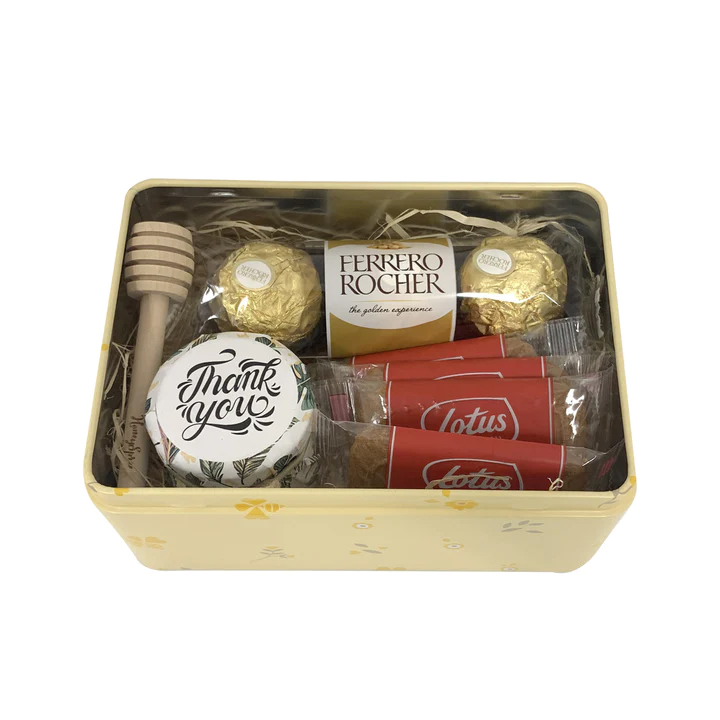 Is your female employee missing work due to the pandemic, or does she have to deal with home emergencies? Then this corporate gift will bring joy and sweetness amidst their gloominess. It contains a mini Bee Safe customised honey jar with a mini honey dipper, hand sanitisers and some snacks to sweeten their day.
8. HEALTHY VIBES CARE TIN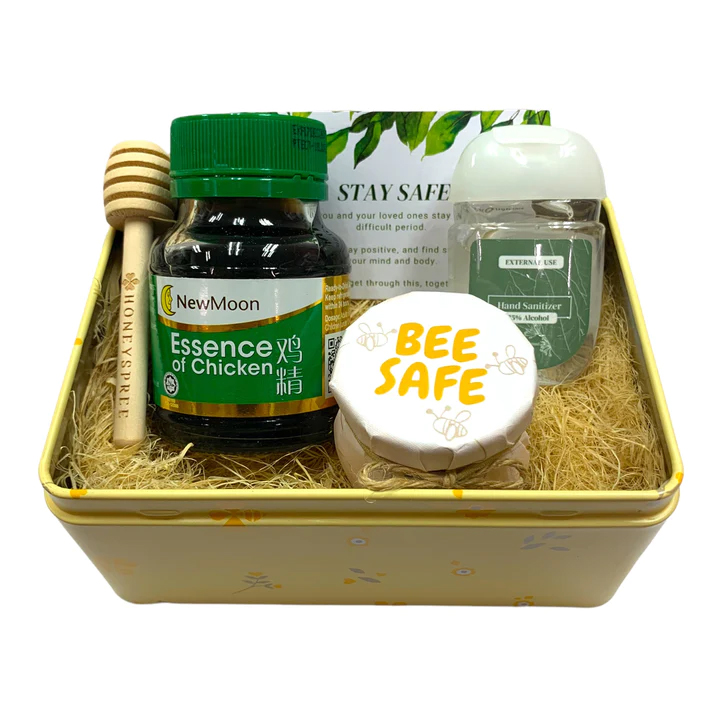 Send your work-at-home female employee COVID care pack that contains a mini jar of honey with a dipper, a hand sanitiser and the essence of chicken.
9. CUSTOMISED HONEY JARS
Fill your female employees' day with sweetness and joy by giving them customised honey jars. It may seem a bit old school, but gifting honey has always been blissful as it exhibits excellent health benefits and shows care and concern for the giver. It is yet the most thoughtful gift you can give an employee.
Final Words
Women are vital in the workforce, contributing to the economy and providing valuable skills and perspectives in many fields. Women bring a unique set of skills and experiences to the table that is critical to the success of any business. They are often more detail-oriented and better at multitasking, which can lead to improved productivity and better decision-making. Additionally, having a diverse workforce can help open up new markets and create a more welcoming atmosphere for customers. Women also experience different forms of discrimination and can be a great ally in ensuring equal pay and access to leadership positions. Ultimately, having women in the workforce can significantly benefit any business, and it is essential to recognise and appreciate their contributions.
Comment